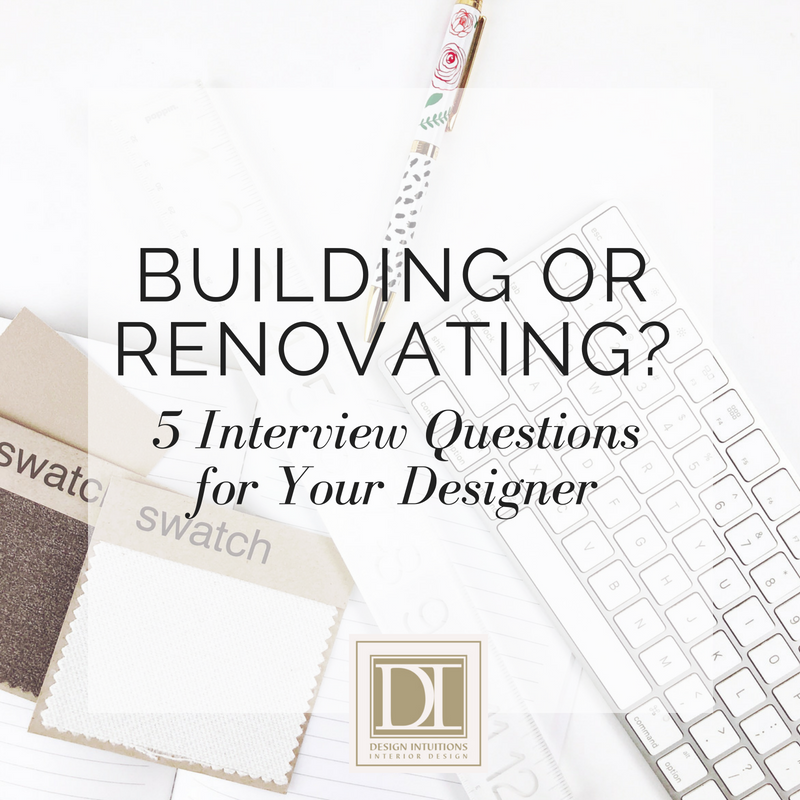 22 Aug

Building or Renovating? 5 Interview Questions for Your Designer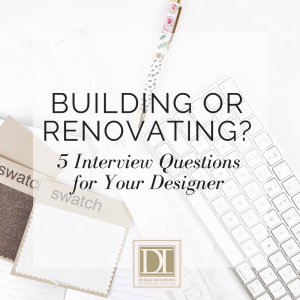 Building or Renovating? 5 Interview Questions for Your Designer
Partnering with a good designer with construction expertise can be your best friend when it comes to bringing an updated design to your home, especially during a home renovation or custom-build project. Designers who are familiar with construction have the experience and knowledge to detect red flags with contractors throughout the project that may affect the timeline – that's SUCH a relief for homeowners! Unlike contractors, who are hired to do a specific job, designers are able to look at a project holistically and can point out design changes that, at a minimum, can prevent major delays and reduce time and expense.
Having a design partner that cares about your timeline and quality is invaluable!
A designer with construction expertise can save you from awkward conversations with contractors when things don't look right. No one enjoys those conversations and, thankfully, you don't have to take on that stress! In this case, it's the designer's job to hold contractors to their deadlines, ensure the right materials are being used, communicate updates and/or changes, and ensure the best quality of work is being performed. A good designer is informed about materials and knows where to splurge or where to compromise to save money and stay on budget. They are knowledgeable about deposits, time commitments, and how going with the lowest bidder can sometimes end up costing you more in the end.
It's this level of expertise that saves you precious time, money, and peace of mind through the entire build or renovation process!
I've worked in interior design for over 26 years and, with my passion for creating beautiful homes and my extensive experience working with new construction and renovation projects, I want to share some of the best tips and questions for finding the right designer for your project!
Debbie was highly recommended to us and proved to be invaluable in building our new home. Growing up with a dad who was a home construction contractor, Deb has a vast knowledge of the construction process from pouring footers to the final details of home décor. During our initial meeting, she quickly understood and respected our style and ideas for the home. Deb's talent and passion for all areas of home construction made her an indispensable resource. She helped us choose the perfect finishes from exterior finishes, flooring, countertops, and paint colors, to custom furniture and window treatments. Her expertise helped us to make the best decisions, thus preventing costly mistakes. We are very grateful to Deb for all she did for us during this time. The final result is so beautiful, and our dream home became our reality. 
Here are my top 5 questions to determine if your designer has the right construction expertise….
How much experience do you have?
Knowing how long your designer has been in the industry, how many construction or renovation projects they've worked on, etc. will help you determine your comfort level.Like most things, having more experience typically translates into a better grasp of projects and makes it easier for your designer to spot any problems along the way.
Tell me about the scale of your projects (one room updates, kitchens and baths only,  full house remodels, etc.).
Discovering your potential designer's project scope and what type of work they typically take on helps you in a few ways:
Does your project require what they offer?
Are their services or packages likely to fit within your budget?
Will your designer be able to take on the size project you have within your timeline?

Knowing these things will greatly help you determine which designer is the best fit for your needs.
Do you have a list of preferred contractors you work with? Are they licensed and bonded?
If your designer has contractors they prefer to work with this could potentially mean cost savings as well as a positive working relationship with everyone involved. Knowing if the contractors are licensed and bonded is necessary to make sure quality and safety are of top priority.
How do you ensure a project stays on track timewise?
All projects have a deadline but that doesn't always prevent hiccups or unexpected problems along the way. Because you are working with a designer that is accustomed to construction, it's important they have a predetermined system for keeping your project on schedule.
If a reno involves exterior changes, does their portfolio showcase both interior and exterior projects?
Interior and exterior changes both require specific knowledge and understanding of materials and design needs. If exterior changes are involved it's important to be sure that your designer knows what that entails and can give you examples of their experience.
Choosing the right designer for your project will be one of the biggest assets to your construction or renovation project.
Have a project in mind? Please feel free to reach out; I'd be happy to answer questions and discuss your plans. Email me at debbie@designintuitions.com.